---
Product Quality Control can be broadly divided into the 5 phases of (1) Wholesaler/Factory Verification, (2) Pre-production Check, (3) During Production Follow-up, (4) Pre-shipment Check, and (5) Container Loading Check.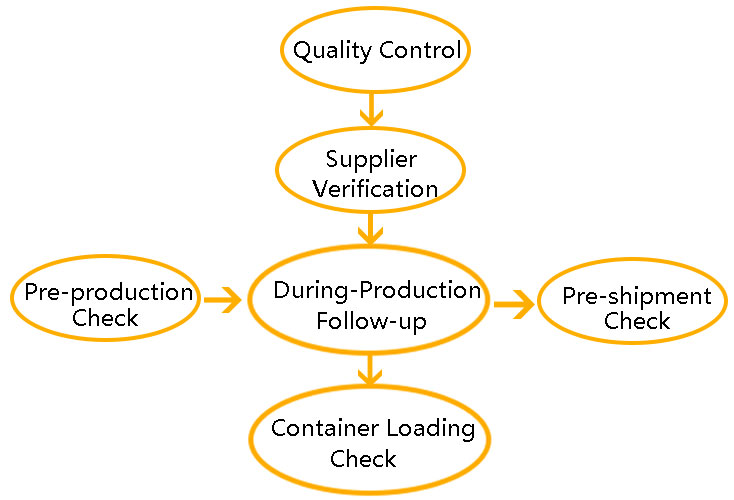 1. Supplier Verification: Before purchasing products from wholesale markets or placing an order with factories, we will verify the authenticity and production capacities of the wholesalers and the factories.
2. Pre-production Check: If the products could not be directly purchased from their existing goods in stock and have to be manufactured, before the production, we will re-confirm the PO (Purchase Order) details before their mass production to ensure accuracy.
3. During-Production Follow-up: We will follow up and monitor the whole process of the production to ensure the production schedule goes smoothly and to minimize the occurrence of quality problem as well as make sure that there will be no any delay in goods delivery.
4. Pre-shipment Check: When collecting or receiving the products, we will immediately re-check the details of all products, including logo, material, quantity, size, color, packaging and any other details related to the products. This is a critical step prior to arrangement of shipping to guarantee that the whole process of the products is strictly in line with the manufacturing quality criterion.
5. Container Loading Check: During the container loading, we will ensure that the loading is handled gently, appropriately and normatively to avoid any damage to packaging and products. We will timely prepare and provide necessary paperwork and documents for Customs clearance, such as commercial invoice, packing list, certificate of origin (C/O), etc.
We fully realize that defective quality will be a headache for every customer and thus, we always do our best from beginning to end to minimize the risk arising from or in connection with a product of defective quality.